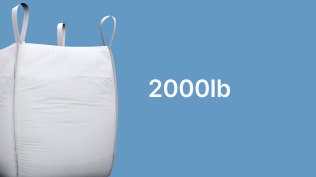 Super Sacks
Treated bulk salt is available in 2,000 lbs super sacks for mid-scale industrial and commercial de-icing. This is a more cost-effective option than buying bagged salt.
With the combined benefits of liquid magnesium and calcium chloride, SOS®-C accelerates the performance of granular salt at lower temperatures and reduces leaching in stockpiles. Designed to accelerate the melting performance of granular salt and is formulated with corrosion inhibitors.
Chemical Composition:
Calcium chloride + Magnesium chloride
This clear, odorless treated rock salt additive minimizes bounce and scatters while allowing the unique pre-treatment of stockpiles in any season, especially in higher humidity conditions. It's a chemically pure, quality-controlled salt that keeps over time. Introduce more effective winter planning, aid the prevention of freezing, decrease erosion and let stockpiles remain free-flowing with SOS®-C. It works well in colder temperatures and keeps your stockpiles from freezing or clumping.
We sell by the ton and can accommodate orders from as little as 1 ton all the way up to 200,000 tons. Our bulk rock salt and treated salt are available for pick up or delivery. We deliver bulk salt to Wisconsin, Illinois, Michigan, Indiana, Ohio, Minnesota, Iowa, Colorado, Montana, Wyoming, Nevada, Arizona, Idaho, New Mexico, Utah, North Dakota, South Dakota, Missouri, and Kansas. We deliver via semi with end dump, live bottom or hopper bottom, or dump truck. Delivery times range between one and seven days depending on your location.