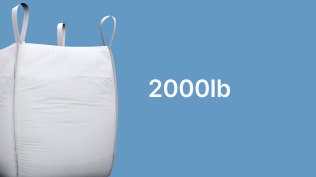 Super Sacks
Treated bulk salt is available in 2,000 lbs super sacks for mid-scale industrial and commercial de-icing. This is a more cost-effective option than buying bagged salt.
ClearLane® enhanced deicer is pre-wet sodium chloride combined with a magnesium chloride formula. ClearLane® has a PNS-approved corrosion inhibitor, a coloring agent, and a leaching inhibitor. It is a highly effective performer that protects exposed steel surfaces from damp salt corrosion and remains free-flowing at low temperatures. It adheres to the road surface more effectively than dry salt, minimizing loss of deicer from wind and traffic scatter, providing more efficient deicing.
Chemical Composition:
Sodium Chloride, Magnesium Chloride
Benefits of ClearLane® include:
Less Scatter, Less Bounce. Product adheres to the surface.
Reduced Corrosion. Longer Equipment Life.
Use 30% less product compared to regular rock salt.
Continues to melt ice when temperatures reach below zero.
We sell by the ton and can accommodate orders from as little as 1 ton all the way up to 200,000 tons. Our bulk rock salt and treated salt are available for pick up or delivery. We deliver bulk salt to Wisconsin, Illinois, Michigan, Indiana, Ohio, Minnesota, Iowa, Colorado, Montana, Wyoming, Nevada, Arizona, Idaho, New Mexico, Utah, North Dakota, South Dakota, Missouri, and Kansas. We deliver via semi with end dump, live bottom or hopper bottom, or dump truck. Delivery times range between one and seven days depending on your location.