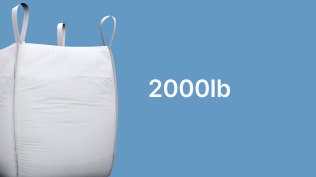 Super Sacks
Treated bulk salt is available in 2,000 lbs super sacks for mid-scale industrial and commercial de-icing. This is a more cost-effective option than buying bagged salt.
Mineral Well Brine Treated Salt
Mineral Well Brine is a liquid additive mixed with rock salt to increase the melting speed and reduce the effectiveness to -20 F°.
Chemical Composition:
Sodium Chloride, Calcium Chloride, Magnesium Chloride
Odorless and colorless, this affordable and quality product starts reacting with snow and ice upon application. Traditionally this product is dyed blue to help with visibility during spreading.
We sell by the ton and can accommodate orders from as little as 1 ton all the way up to 200,000 tons. Our bulk rock salt and treated salt are available for pick up or delivery. We deliver bulk salt to Wisconsin, Illinois, Michigan, Indiana, Ohio, Minnesota, Iowa, Colorado, Montana, Wyoming, Nevada, Arizona, Idaho, New Mexico, Utah, North Dakota, South Dakota, Missouri, and Kansas. We deliver via semi with end dump, live bottom or hopper bottom, or dump truck. Delivery times range between one and seven days depending on your location.